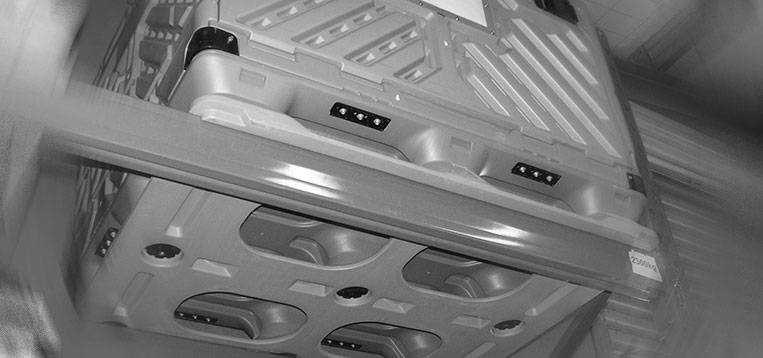 What is

Innovations?

Innovation is where a person or company finds better ways of operating or better products which provide an improvement either economically, socially or environmentally.

How does Pallenz fit into this model? When Pallenz started manufacturing its original pallets they were manufactured in a process which was both slow and inaccurate. The pallets could end up different weights and sizes as well as taking 30 minutes or more to manufacture. The directors of Pallenz realised this was not the best way forward and looking for better methods approached ESPlastics to design a new pallet range which would be manufactured quickly (6 minutes each) and could be reliably reproduced to exacting specifications. The results were pallets and pallet bins which were an improvement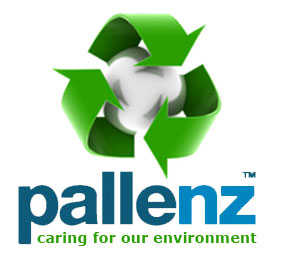 i) Economically/Environmentally – as the new pallet range were made quickly 6 minutes rather than 30 minute each pallet uses less energy, manpower and plastic
ii) Economically - As the new pallet range weights less it results in lower transport costs and with the pallet bins being collapsible they can be transported collapsed when empty resulting in larger volumes being carried with resultant reduction in transport costs, fuel and emmissions
iii) Socially – the new pallets and bins are lighter so can be moved by staff without serious injury
iv) Environmentally - the bins are fully recyclable into other products
v) Environmentally – no trees are cut down resulting in the loss of forests
vi) Environmentally/Economically – Pallenz manufactures a pallet range which fit a container with no waste space therefore transporting more product in trip by utilising space to the best advantage
Economist Joseph Schumpeter, who contributed greatly to the study of innovation, said that companies must innovate with better or more effective processes and products, such as the shift from the craft shop to factory. In addition he said entrepreneurs continuously look for better ways to satisfy their consumer base with improved quality, durability, service, and price which come to fruition in innovation with advanced technologies and organisational strategies.
Pallenz fits this model ideally as being market led, Pallenz is continuously looks at the market to see where it is heading, speaking with customers to provide pallets and bins which fit their processes and lean manufacturing principles. Pallenz recognises a 'one fit' strategy does not work well in this day and age.
Value of experimentation
With innovation comes the requirement for real world experimentation to ensure the product will fit and fulfil its purpose for the customer. Pallenz works with its customers to ensure the pallet will fit their needs in regard to weight and size. Pallenz sees this as an important function of its service. Yes it supplies a pallet range, but it is only a transport mechanism for your product. Your product must finish at its destination in one piece.
Not content to be followers, Pallenz have been in the plastic pallet industry for over 20 years and throughout that time have been market leaders through innovation in product design, material technologies, and manufacturing processes.
---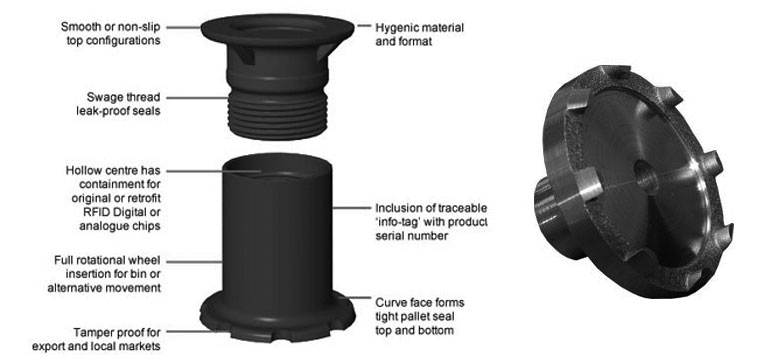 J-Bolt
The J-Bolt sets the Pallenz plastic pallet beyond comparison with any other pallet.
It is the focal point of the pallet's full functional advantages and is the safe repository for RFID tags – of any number or any description.
The cylindrical device is injection moulded and fitted to nine locations in our rackable pallet and in one central location in our platform pallet to:
Fully secure and stabilise the top and bottom pallet modules of the rackable pallet
Has the option of non-slip 'domed' tops in the four corners for non-slip stacking which are also inter-changeable for wheels to give the pallet and bin alternative mobility
The centre j-bolt holds the RFID tag(s) for 360 degree visibility and is fully watertight and secure